Our Amenities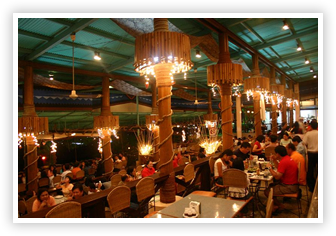 Taklobo Restaurant
If you're craving for a real satisfying meal, Jack's Ridge main restaurant is just where you should be. With a wide array of delectable dishes, Taklobo Restaurant will surely make you come back again.

The main restaurant offers Dabawenyo cuisine famous the world over. There's grilled tuna, chicken and pork, kinilaw, sinigang, and other dishes that are sure to satisfy even the most discriminating palate. Wash it with beer or have some fresh pomelo for dessert. All this can you enjoy as our singer serenade you with an unlimited selection of popular songs.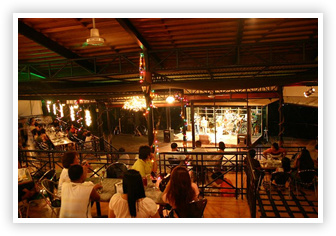 Kai's Bar and Grill
The mountains echo with the seconds of the best bands in the city as they perform fabulous and energitic number here nightly. Dance the night away or simply listen with friends Hobnob with other party animals who have made Kai's Bar the favorite party place all here drinking and dancing till' the break dawn.
Live entertainment daily.
From Tues. to Thurs. - Acoustic Session
Fri. & Sat. - Live Band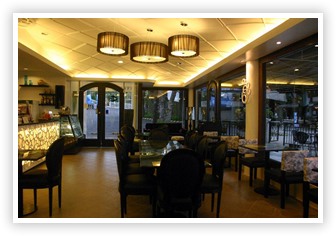 Karlo's Gourmet and Coffee
Simply, this is a great place to dine with your friends and family. A chic restaurant that serves fusion of French, Italian and some mexican dishes. Take your pick from appetizer to dessert and have a cup of your favorite coffee; white chocolate mocha, cappuccino or the house specialty, Karloccino. Enjoy it all in the cool ambiance of glass walls, warm lights and spectacular view.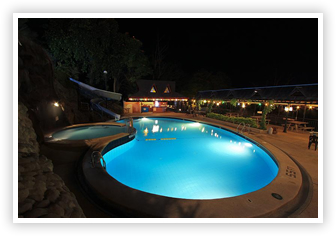 Kool Kat's Pool
The newest addition to Davao City skyline, the twin pools give a new dimension to the resort's already excellent facilities. With a fabulous view, the pool gives swimmers completely new experience with water. Plunge in or just float lazily around, relaxing to the refreshing sound of a waterfalls built for your pleasure. There's nothing like it.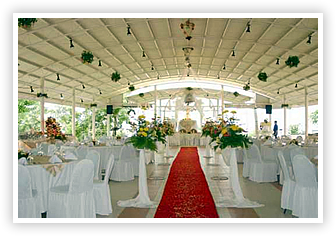 Penmar Hall I&II
What's more pleasing than holding your forums, wedding, conventions or seminars at Jack's Ridge Penmar Hall. Situated within a natural scenery, Penmar hall will surely make your activities more pleasurable.
Click here to watch the new Penmar Hall Video.
Click here to view the new Penmar Hall Photos.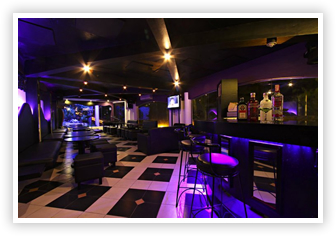 Tap Room Piano and KTV
Looking for a place to relax and unwind while enjoying a breathtaking view of Davao? Visit the newly opened TapRoom Piano and KTV at Jack's Ridge Resort and Restaurant. Formerly named BMW Bar, the place has undergone a facelift and upgraded its sound system. TapRoom now hosts an upbeat and contemporary look with its purple lights, LCD flat screen tv's and Bose hi–fi speaker system.
Open daily from 5:00 p.m. to 12:00 a.m., guests can listen to TapRoom's in house pianist or they can sing their hearts out with the videoke. You'll feel right at home at Tap Room with its relaxed and cozy ambiance. TapRoom, which can accommodate 50 persons, is the perfect venue for birthday parties, corporate events and other exclusive get-togethers.
So eat, drink, sing and chill out with your friends at TapRoom now. Or simply enjoy the view.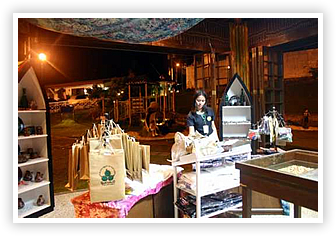 Souvenir Shop
Reminisce the captivating beauty of the city with the souvenir shop's pieces of mementos.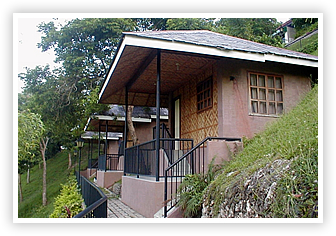 Cottages
Wake up to the smell of the cool mountain air and the unparalleled sight of the sun shining over Davao City and its environs. Overnight cottages are available for those who want to experience the serenity of sleeping amidst the lush surrounding of Jack's Ridge and walking up to a fantastic night.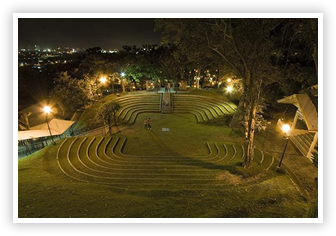 Amphitheater
Celebrate your weddings or other special occasion at our amphitheather. With its scenic atmosphere, it will truly make your event a memorable one.